A-M / N-Z / David Bowie / Top 10 / Bonus
Welcome to the Videogame Lookalikes archive! All your old favorites are here (David Bowie!), with new updates over at VideogameLookalikes.com
---
Send Lookalikes Here:


---
[2009-02-12]
David Bowie is in every game! I've been saying it for ten years, it's always met with the same result: People back away, slowly, without making eye contact.
But that doesn't change the facts, and with each new David Bowie lookalike submission, the evidence that most character designers basically just flip to a random scene from the Labyrinth and start drawing is even more damning.
When will news of this shocking discovery reach the mainstream press?
[2009-01-11]
[2008-11-04]
Videogame Lookalike Election Special!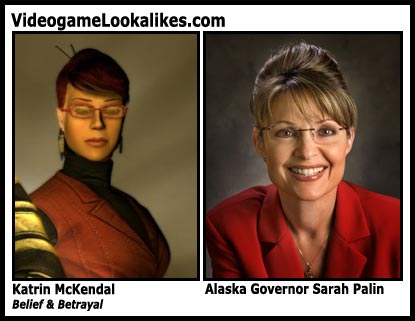 [2008-10-25]
Happy Hallo--what, not yet? Man oh man, I'm so excited, I just can't hide it. Halloween is right around the corner, and that means digging up all my favorite unpublished SPOOKALIKES.
[2008-06-26]
Booya, right on schedule. Tell your friends: www.videogamelookalikes.com is where it's at.
Anybody buying this?
[2008-06-19]
Told ya! New Videogame Lookalikes every Thursday. EVERY THURSDAY. Even if I get dangerously close to missing NBC's awesome "Fear Itself" horror series. That's the kind of dedication you reward with cookies and ice cream.
[2008-06-12]
Two big announcements:
We're moving to VideogameLookalikes.com
Thursday Night Lookalikes! Come back every Thursday for brand new lookalikes from the original Videogame Lookalikes website! (That's me.)
[2008-06-02]
Attention: I moved the link to the "Thanks" section to the bottom of this page. Been meaning to do that for a while, as I started thanking people on the actual lookalikes sometime before the turn of the millennium. Now go check out the new David Bowie section!
[2008-03-02]
Inspired by Rambo Part 4: Third Blood & 1/5th, I've decided to serve up a warm platter of Stallone. Serve with a mouthfull of cotton candy and goblets of foesblood.
[2007-12-12]
Today's lookalikes contain some of the biggest titles out there: Grand Theft Auto 4, God of War, Resident Evil 4, Might & Magic VII (okay, maybe not that last one.)
Yes, I'm back after a long, long time. My reasons will become clear soon enough (ominous tone), but for now, enjoy some of these big bad videogame lookalikes.
---
Past updates
---
A-M / N-Z / David Bowie / Top 10 / Bonus