Autopsy (2008)
Horror Movie Mini-Review
2013-06-01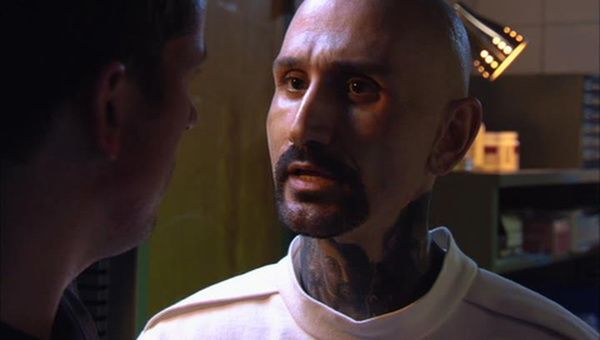 This guy means business. And by "business" I mean "to kill you." This guy means to kill you.
If you're like me and you bought the third collection of After Dark's Eight Films to Die For, you probably avoided Autopsy (2008). Everything from the title to the grim, monochrome cover art lead me to believe it was the sort of movie where people were endlessly tortured in sterile rooms awash in blue-green hospital lighting. You know, the kind of lighting that even sucks the life out of lifeblood.
But Autopsy is a colorful and energetic take on the typically grim hospital horror subgenre. The film opens with a Hangover-esque credit sequence of snapshots depicting a little drunken revelry on the streets of a newly restored New Orleans. Jumpcut to a terrible accident on a swampy backroad, and an ambulance that shows up a little too soon.
The wounded kids are taken to a clean but otherwise abandoned hospital, understaffed due to Katrina, they're told. Ten minutes in, we're treated to a vivid, shocking image that playfully announces we're in for a wild ride. From there, the audience is lead through one nightmare scenario after the other, caught off guard with encounters that border on the surreal. These scenes aren't big thriller set pieces so much as gruesome tableaus, very much like you'd find at a high quality spookhouse. And like a spookhouse, Autopsy has fine performers who overact with the best of them, lead by Robert Patrick (Terminator 2) as a thoroughly twisted doctor. (4/5 stars)