Legend of the Mystikan Ninja
Written by Zeus and Ridley on 2003-01-29
Hidden behind bags of Mexican snack food and rows of religious candles, lost in the far reaches of the dollar store for untold aeons, battled the armies of Wizards Magic and Ninja - Hero of the Dark. But these were no ordinary action figures, these were living beings, shrunken and laminated for your child's amusement.
These were Nanite ninjas. Wee wizards. Midget monsters.
Ninja Rhinoceros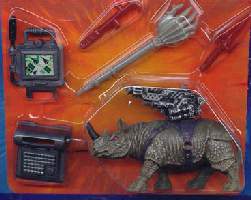 Ninjas had rhinos. Little known fact. But these weren't just any rhinos, these were gun-toting hacker rhinos. Each came with a chaingun strapped to its back and a sophisticated laptop computer. Ninja Rhinos carried around equipment they could never dream of holding with their big stupid hooves. Like the fearsome Backscratcher, most deadly of all Ninja weaponry. Many an honorable warrior has fallen prey to the Backscratcher.
Ninja Rhinoceros: Talk, damn you or I scratch that itch!
Warrior: N-no! Keep away!
Ninja Rhinoceros: Aw, come on. Just one little scratch.
Warrior: Hai! So refreshing!
Tri Tremis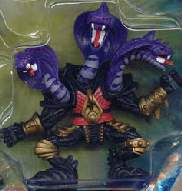 When I think of a period of time in a pregnant woman's cycle, I can't help but think of a three headed cobra soldier. Enter: Tri Tremis, famous OBGYN of the Galapagos islands. Dr. Tremis' would have held the world record for simultaneously delivering five babies at once, but two were swallowed by accident. The third, he insists, was intentional.
Ninja Fighter #2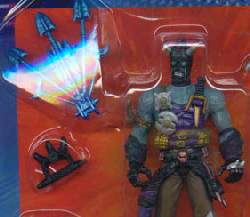 My crossbow has three arrows. One for each head.
My name is Ninja Fighter #2. My parents hated me.
But I am a good father. Or I would have been if Tri Tremis hadn't swallowed my children.
I will have my revenge. For I am on the box. And I am Ninja, trained in the art of Gymkata. When I talk, it is of death and mayhem. When I move, it is with the poetic fluidity of one trained in hand-to-hand combat. When I cry, I cry throwing stars. And that really fucking hurts.
Mystikan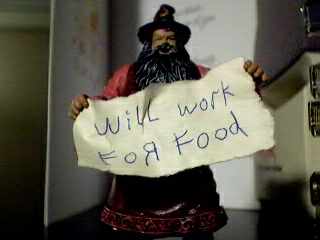 You've heard of street magicians? Well, Mystikan is a street sorcerer.
Once a proud and noble wizard, Mystikan has fallen on hard times. Now he hits his Pegasus pipe a little too often and spends his days brewing stews in a burn-barrel-turned-cauldron. Poor Mystikan learned the hard way that when a King asks that you cut his daughter in half, he doesn't mean literally.
Skary Monstra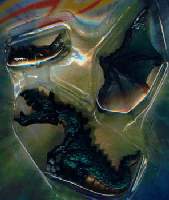 Skary Monstra is an embarrassment to all of dragonkind. There have been too many cool dragons -- from Smaug to Ricky Steamboat -- to settle for this dismembered wyvern. Half the fun is breaking your toys -- what's the point when it's already in pieces?
Take a long hard look at that thing to the left. What is it? A limb of some sort? It certainly doesn't look like he has any legs. No, it's a shiny helmet. Because Skary falls down a lot. Skary has special needs. At least his name is incredibly badass. Nothing strikes fear in the heart like a disabled dragon named "Skary Monstra."
The Wizard Krunge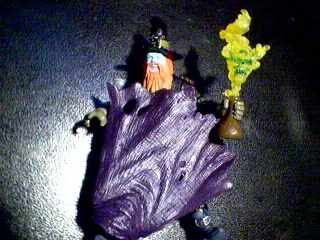 This washed-up wizard has his oddly colored eye on Mystikan's pipe for sometime now, and he's determined to steal it! With the help of his bone handled broom and his book-o-magic that he himself got from a dollar store in Hackensack, New Jersey, he swore he'd be "puffin on the Pegasus pipe" before you can say, "My god, man! Keep it in your robe!"
But Mystikan doesn't have much to worry about. Recently, Krunge was found frozen to death, huddled over a steam vent and clutching a 40 ounce flask of noxious malt liquor.
Gallopogus
Gallopogus is presumably from the Galapagos islands. That somehow scientists missed giant, sword-wielding centaurs speaks ill of the scientific community in general. (I mean, what smells worse than a centaur pie? NOTHING!)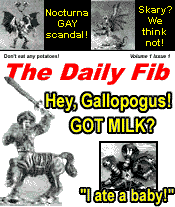 Gallopogus has been in and out of the tabloids for months. First there were rumors that he killed Mr Whipple, because he refused to make squeezable Charmin "hoof friendly." Then rumors circulated that he binged on Krunge Liquor after losing it all investing in Gallo-po-Gas brand Pork & Beans. But that was nothing compared to the scandal when The Daily Fib reported that Gallapogus actually has the body of a cow.
Ninja Fighter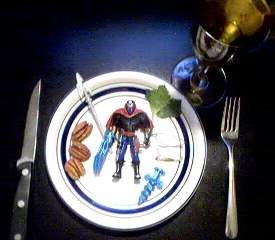 "Ninja Fighter is marinated in dill dressing and is traditionally served with white wine and a chilled cucumber and yoghurt soup. Just peal away the succulent, scaly skin and slurp out the exquisite meat inside. Remember to chew carefully! Ninja Fighter is garnished with grappling rope, a spear, a large hand-claw, generous chunks of a sub-atomic nuclear acceleration laser, a shotgun, and a utility belt holding three throwing knives, two scatter grenades and a couple raw hot dogs." -- Mystikan's Guide to Eastern Cuisine

Ridley has plans to turn the world's supply of midgets into the world's largest collection of action figures. Zeus is willing to go along with Ridley's evil scheme in hopes of seeing Danny DeVito dunked in a vat of bubbling plastic.