Everyone Loses When You Pay to Win
Rant by Zeus | 2013-11-18
Strangely enough, I actually dislike Pay to Win games.
Here's why!
Continue reading →
3x3 - Favorite Use of Split Screen
by Zeus | 2013-10-07
I haven't had time to see movies or catch up on episodes, except for Riddick.
Click here to read my latest 3x3 list.
3x3 - Favorite Horror Movie Kills
by Zeus | 2013-09-08
Click here to read my latest 3x3 list.
The Prophecy (1995) Mini-Review
by Zeus | 2013-08-28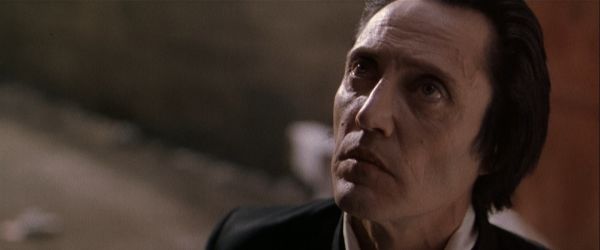 Image stolen from DoBlu
.
The Prophecy is one of those 90s movies I vaguely remembered but never felt like rewatching. Until now! Christopher Walken plays Gabriel, a real Old Testament pillar of salt kind of Archangel, whose powers of pyrokinesis bring a whole new meaning to "Touched by an Angel." Jealous that God lifted "talking monkeys" -- that's us -- into His Grace, Gabriel started a war in Heaven that has been at a stalemate since basically forever. (It's like that episode of Friends, where Chandler and Ross are either equally strong, or equally weak.) But Gabriel has discovered something that can tip the scales: the dark soul of a cannibalistic Korean War criminal, which he intends to recruit and, I guess, put his army of Jealous Angels through basic training.
The Prophecy's villains are as campy and over the top as the good guys are boring. Even Elias Koteas (Casey Jones from Teenage Mutant Ninja Turtles) plays it straight as Thomas Dagget, a Priest turned Detective after God "showed him too much." He teams up with a bland school teacher and even a bland Angel, played by Eric Stoltz, who at one point shares an excruciatingly uncomfortable open-mouth kiss with a child actress, making me wonder if this movie was intended as a prequel to The Butterfly Effect.
The Prophecy was written and directed by Gregory Widen, who also wrote the screenplay to The Highlander. As far as I know, this was the last high concept genre film he wrote. Which is weird, because even though The Prophecy bombed, it gained enough of a cult following to spawn four sequels. The movie reminds me a bit of Preacher. It's dark and weird, perhaps at times for the sake of being dark and weird, but it's an interesting ride, pocked with neat ideas and performances. This is the kind of movie where Viggo Mortensen shows up as the Devil and advises the hero to tempt Gabriel to doubt his own faith, and then the hero ditches that plan, runs said Angel over with a Jeep and bashes its head in with a shovel. Makes no sense, but has a little something for everyone, including those compiling video evidence to prove why Eric Stoltz shouldn't be allowed around children.
3x3
2013-08-25
Each week, the hosts of the Quarter to Three: Movie Podcast challenge themselves to a match of 3x3 ("three by three"). The object is to come up with a list of three movies that fit that week's topic: Best Explosions, Best Seductions, Best et ceteras, etc.
More New Old Articles
2013-08-13
I'm thinking of releasing "HD" remasters of these old articles. Meaning I'd have to track down Hard Rock: Save the Space on DVD and take some new screen captures at their original resolution. I'd also have to record director's commentaries whose opinions do not necessarily reflect my own, and add unskippable trailers that play before each article. ("You wouldn't steal a GRUMBLETTE, would you?")
New Old Articles
2013-06-02
I'm digging deep into the archives to pull out some of my favorites.
Autopsy (2008) Mini-Review
2013-06-01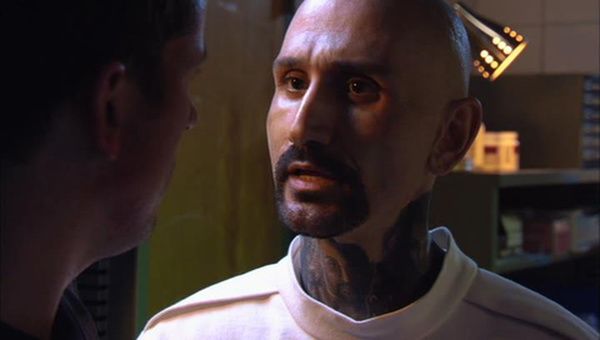 This guy means business. And by "business" I mean "to kill you." This guy means to kill you.
If you're like me and you bought the third collection of After Dark's Eight Films to Die For, you probably avoided Autopsy (2008). Everything from the title to the grim, monochrome cover art lead me to believe it was the sort of movie where people were endlessly tortured in sterile rooms awash in blue-green hospital lighting. You know, the kind of lighting that even sucks the life out of lifeblood.
But Autopsy is a colorful and energetic take on the typically grim hospital horror subgenre. The film opens with a Hangover-esque credit sequence of snapshots depicting a little drunken revelry on the streets of a newly restored New Orleans. Jumpcut to a terrible accident on a swampy backroad, and an ambulance that shows up a little too soon.
The wounded kids are taken to a clean but otherwise abandoned hospital, understaffed due to Katrina, they're told. Ten minutes in, we're treated to a vivid, shocking image that playfully announces we're in for a wild ride. From there, the audience is lead through one nightmare scenario after the other, caught off guard with encounters that border on the surreal. These scenes aren't big thriller set pieces so much as gruesome tableaus, very much like you'd find at a high quality spookhouse. And like a spookhouse, Autopsy has fine performers who overact with the best of them, lead by Robert Patrick (Terminator 2) as a thoroughly twisted doctor.
Review Score: 4/5 Stars.
I Live (sigh, again...)
2013-05-11
Holy crap, it's time I updated this thing. Especially considering the 10% complete rant I've had at the top of my local copy. Something about the cliche look that replaced bald space marines. The less you know, the better.
Okay. I'm fine, how are you?